Your customers buy your products conveniently and easily via app
With the shop module you can sell your products and services directly via your app. The module has four different tabs in which you can make settings.
Collection Design
In the Collection Design tab of the shop module you can first select the presentation of your products. Three variants are available to you. In addition, you can sort your products according to different criteria, e.g. by name. The Detailed view allows you to take a closer look at the products and services.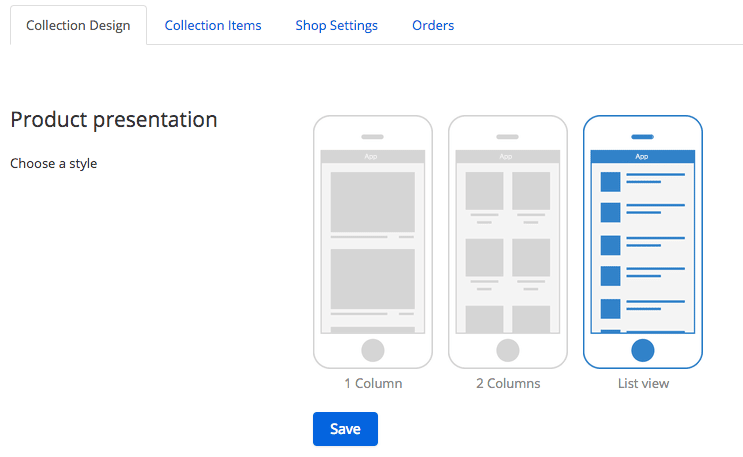 Advanced Options
Under Advanced options you can add further categories or descriptions to your products and services, e.g. location, address or keywords. Among other things, you can also add a video to your product. This is another eye-catcher (next to the product image) that will captivate your customers and inform them about the respective product. You can add videos to all catalog modules (price list and product catalog). The procedure is the same. All you have to do is add the button Website (last button on the screenshot) and confirm with Save.
Then choose the product Bruschetta and add the link of the video (from YouTube or Vimeo) under Add Product into the field Website. It would look like this in your app:
Collection Items
In the Collection Items tab, you can now create the corresponding products under Add Product or Upload File and integrate them into the app.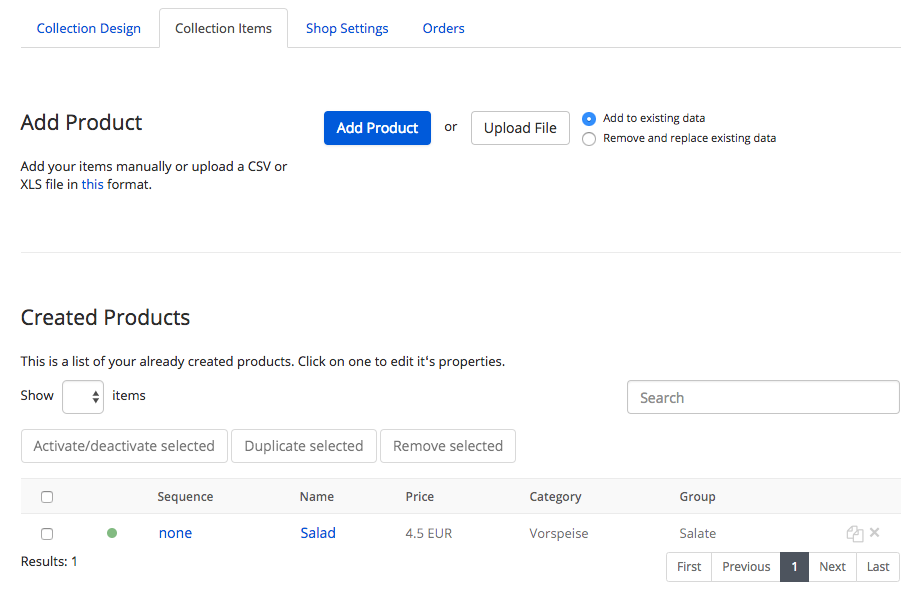 If you have added a product, you can adapt it by clicking on it under Created Products. In that new window you can change the name, the price and the type of product.
Required image size
Product images must be in JPEG and PNG format and must not exceed 320 px x 230 px.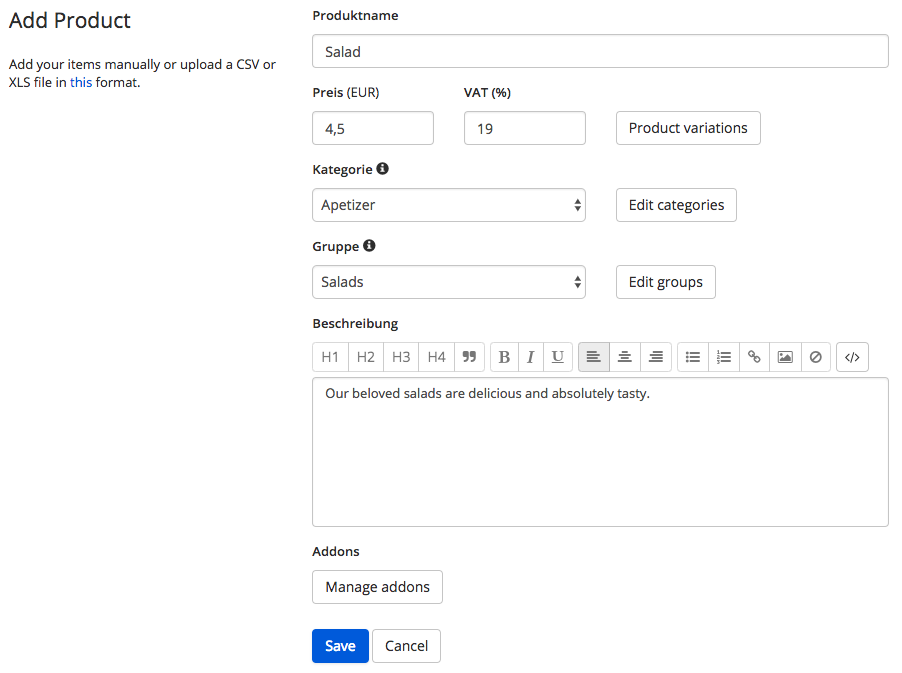 Shop Settings
Under Shop Settings in the General Settings you can specify to which e-mail address the orders should be sent and in which currency (e.g. EUR) your shop should be priced.
Minimum order value
You can also set a minimum order value for your shop. This means that customers can only place their order when they have reached the minimum order value of 10 Euro. The minimum order value refers to the entire shopping basket and can apply to either the gross or net price. Other costs that may be incurred for the delivery are not included. You activate the minimum order value using the slider and can then set the desired value.
For your customers it would then look like this in the app (the minimum order value is noted at the bottom right):
You can also specify whether the shipping costs should apply to individual items or to the entire order.
Shipping method - DELIVERY - Delivery as shipping method
You can set the delivery as a shipping method for which a delivery fee is set, e.g. 1 Euro.
Use your own delivery times
Store delivery times in your app, at which you deliver your products to your customers. You can also use your opening hours for this purpose (Button: Copy from opening hours). Your customers can choose on which day or at which time they would like to receive their delivery.
Local delivery
With the local delivery you define the areas you want to deliver to. You can also define different postal codes for this purpose. Depending on the postal code you can also define different delivery charges.
Shipping Methods
The shipping method by DHL or self collection can be set here.
Shipping Terms
In the shipping conditions window you can add a description of the delivery.
Form Settings
The form settings allow you to specify which fields should be declared as mandatory fields.
Further settings for the shop
Payment options (e.g. via Advance payment or PayPal), customer notifications (pop-up window, which appears after a successful order) and legal information (e.g. terms and conditions, return policy) can be added in the following fields.
Orders
The Orders tab combines all incoming orders that you have already received from your customers. You can easily download the orders as a CSV file by clicking on the button Download Orders below the list.
More Infos
How to set up product variations for your shop module
The shop module: Addons allow you to add more extras to your products
Can products refer to each other in the shop module?