Viewing and using the user list
You can access the user list via Manage > Users. All users are displayed in a clearly arranged user list. You will always see the first 50 users in your user list. To display the remaining users, simply scroll through the user list until you reach the end of the list.
Structure of the user list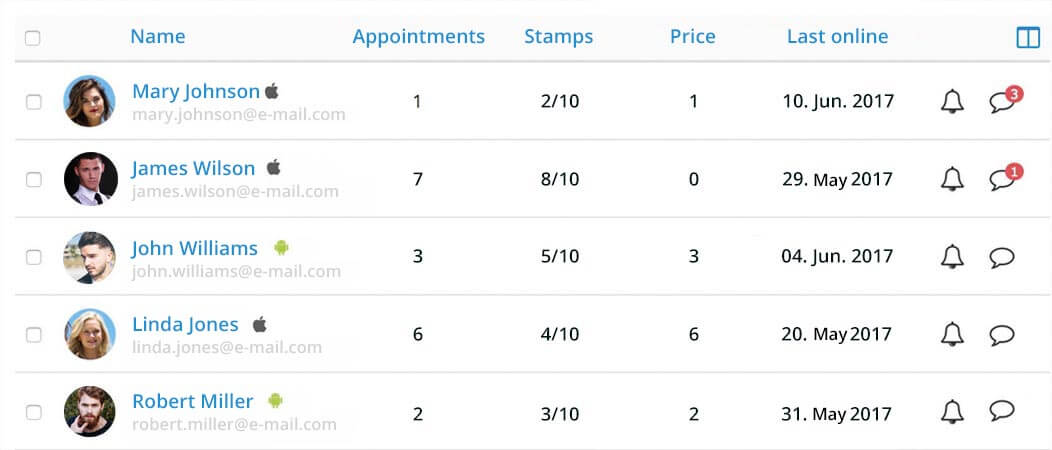 You can build the user list according to your individual ideas. You can use the display icon (top right) to specify which information you would like to learn from your users. Among other things, you can display the date of the last login, shop orders already made or collected stamps. Depending on which modules you use in your app, you can get the most valuable information at a glance.
Filter in the user list
With the filter icon (next to the display icon) you can display either all users, only active or only inactive users. For example, if you want to send a chat or push notification to all your active users, select it. Then click on the corresponding button (chat or push message) and write the message you want to send. You can only send a message to your inactive users once you have activated them. You can do this by clicking the Activate button in the corresponding user profile. You are welcome to read our blog post about the user list and its functions and learn more about it.
Reach users via the user list
You will always be shown the first 50 users of the user list. If you now select the checkbox next to the Name column, your chat or push notification will only reach these 50 users. If you do not check the box, your messages will be sent to all users in the list.
Example 1
You have previously filtered by active users only. Then your message will only reach them.
Example 2
If, however, you want to reach more individuals and only those users who, for example, have already collected more than five stamps, Marketing Automation is the ideal solution. With this you have various filter functions at hand to address exactly these users with a message.
Exporting the user list
At the bottom right you find the button Export to file. With this button you can convert your user list into a CSV file. This export always refers to the entire user list – no matter what you have filtered in the user list before.
Hint
The user list is used to give you an overview of how your users interact with your app. If you have few users, you can also contact them via chat or push messages. However, to select a group of users with certain requirements – especially if your app has many users – Marketing Automation is a better solution.